Good taste and heath on bitter and sweet fruit vegetable in summer - bitter gourd
As the proverb says 'bitterness ends and happiness begins' which means your hard work will pay off. When you eat the bitter gourd it tastes bitter at the beginning, however, it could give you a sweet aftertaste just like the Chinese proverb said. Although the fresh fruit of bitter gourd was bitter but proper cooking methods could make it sweet and unforgettable delicious. Bitter gourd fruits have high nutritional value, containing various vitamins, minerals and dietary fiber. Especially, it has the highest vitamin C content among melons. The bitter gourd tastes bitter because of the presence of gourd-momordicine, which has become a natural supplement. It could stabilize blood sugar, blood pressure, and blood lipids and gradually become a new darling of people who seeking healthy diet.
Taiwan Seed Improvement and Propagation Station (TSIPS) said that bitter gourd plays an important role in summer fruits and vegetable in Taiwan. It prefers warm environment and has great heat tolerance. It was suitable to plant at 20-30℃in summer and also could fulfill the deficiency of leafy vegetable in summer. These years, production areas of bitter gourd are about 1400~1600 hectares in Taiwan. The major bitter gourd production areas are Taichung, Changhua, Kaohsiung, and Pingtung. The total yield per year is about 27 thousand tons. There is a steady demand for bitter gourds. Due to the warm weather in Kaohsiung and Pingtung area, bitter gourd could be planted all year round. While farmers always planted it from spring to summer in Taichung where has colder winters. Therefore, the proper production season regulation makes customers could eat fresh bitter gourd all year round in Taiwan.
TSIPS said that according to consumer preference there are many types of bitter gourd in local markets. There are different fruit types, such as skin with ribs and wart, shapes of spindle, oblong or apple-shape. As regards fruit colors, there are white and different kind of green from light to dark. In Taiwan, people like green, light green and white ones which are very different from the major types of the foreign markets.
TSIPS said that farmers in the past usually cultivated local varieties and kept seeds themselves for planting when produced bitter gourd. These cause poor performance on growth and inconsistent fruit quality and lead to problems in production and grading. In recent years, industries of seeds and seedlings have promoted varieties of F1 hybrids which are of great performance on growth and uniform fruit shapes. For the benefits brought by F1 hybrids, it gradually becomes the main varieties for production.
TSIPS collected germplasms from Asia such as Japan, China and Southeast Asia. We selected and purified the materials for many years. Now, we have many different types of inbred lines with potential for meeting different market demands. Based on the requirement for white bitter gourd in Taiwan, we used the gynoecious lines and white bitter gourd for variety improvement. We hope this method could overcome the lack of early production and reduce cost of fruit bagging. We primarily selected two elite testcrosses including 106H01G with advantages of early maturing and high yield. They also have excellent characteristic of pearl white skin, round ribs, straight fruit shape and could be cultivated without bagging. We are going to conduct assessment of production these two testcrosses with farmers. If they are suitable for mass production in Taiwan, we will evaluate and apply for plant variety rights protection and subsequently promote them.

▲Fig.1. The fruit of new bitter gourd testcross (106H01G) selected in TSIPS.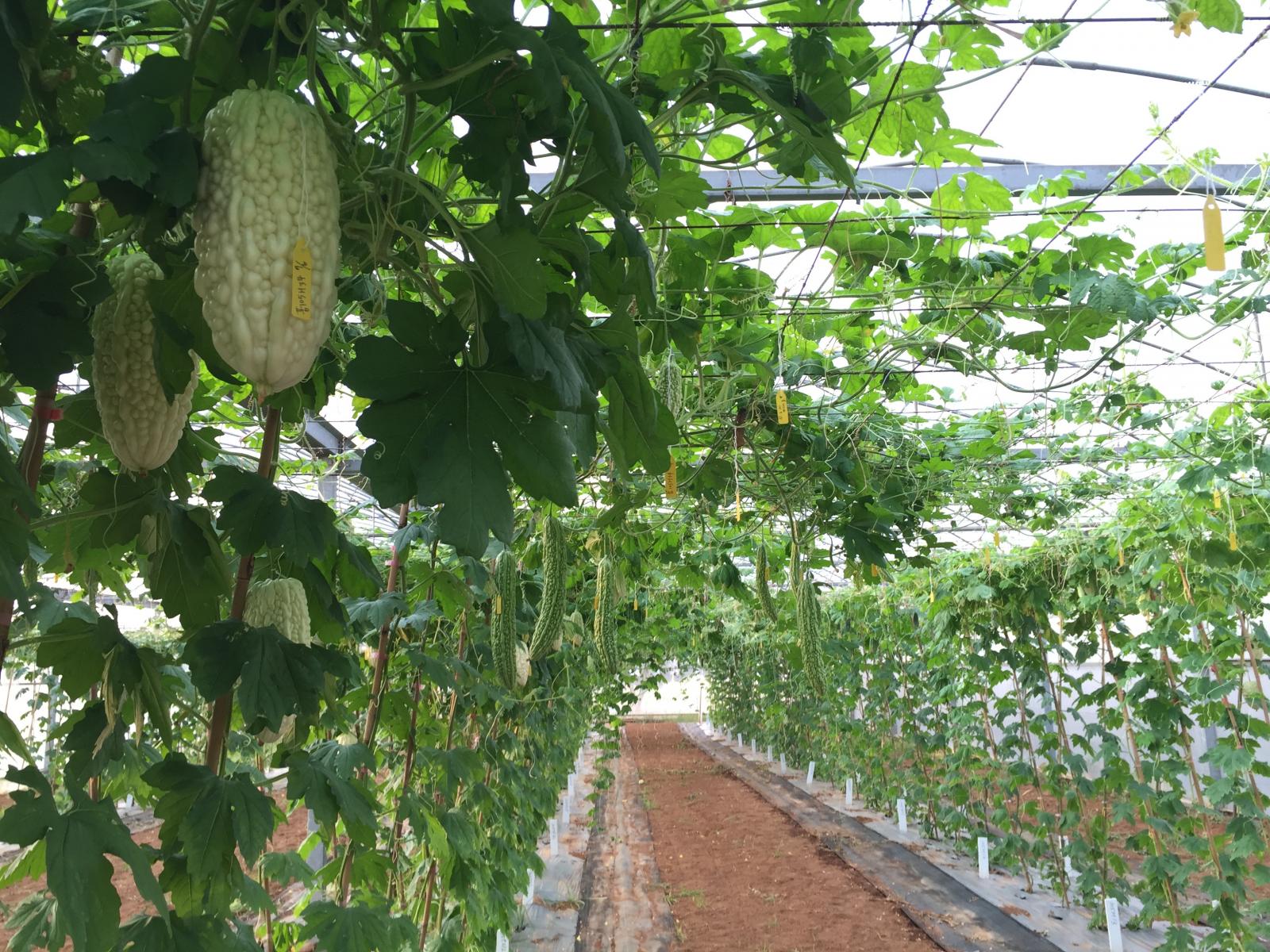 ▲Fig. 2. The different lines of bitter gourd cultivated in the green house.
Contact Person:Taiwan Seed Improvement and Propagation Station (TSIPS)
    Chang, Sheng-Chih
Tel:04-25825460
E-mail:james7309@tss.gov.tw
Contact Person:Taiwan Seed Improvement and Propagation Station (TSIPS)
     Lee, Mei-Jiuan
Tel:04-25825402
E-mail:ann@tss.gov.tw