Taiwan Seed Improvement and Propagation Station (TSIPS) have devoted many years to the cultivation of healthy seedlings for crops. The Pingtung Seed & Seedling Research Center, which is a branch of TSIPS will be starting this year, through building of energy efficient isolation greenhouse, and detecting of virus /transfected gene ,to establish standard procedures crops of healthy seedling such as papaya . The Pingtung Seed & Seedling Research Center has been passed ISO 9001 certification in June this year and developmented strict standard procedures for the quality ensure of papaya healthy seedlings.
Papaya is rich in vitamin C, minerals, dietary fiber and carotenoids, among them, β-carotene and β-cryptoxanthin are the provitamin A of vitamin A. It can be synthesized in the human body through metabolism. Lycopene and other types of carotenoids with powerful antioxidant capacity can reduce the risk of many diseases. Lycopene from the papaya and the availability of the human body is 2.6 times from carrots and tomatoes,moreover β-carotene from the papaya is 3 times from tomato As a result, papaya was selected as the World Health Organization's top ten excellent fruits.
The research and breeding of papaya is internationally renowned. In the past 40 years, 20 varieties have been bred. One part is from public sector such as Tai Nong No. 1-6 (sbsence 4), Seedling No. 7, NTU No. 8, Kaohsiung No. 9 and Tai Nong No. 10,and the other part is from privately businesses such as Red Princess, Farmers No. 1, No. 2 seed Long, Hung Fu, Fu Green, Red Over, Red Show, Full blessing, Longevity and Red Dragon and so on. The cultivation area of domestic papaya is about 3,000 hectares in 10 years, and the number of seedlings needed each year is great. At 2,000 plants per hectare, it will be replanted every 2 years, and conseguenetly at least 3 million seedlings wil be reguired per year. Tai Nong No. 2 papaya has a high yield and good flavor. It is deeply loved by farmers and consumers and is the major cultivar in Taiwan, accounting for more than 90%. Since Tai Nong No. 2 is a hybrid variety, farmers can not leave on their own seed. Papaya seedlings come from private hatcheries breed.
Papaya is cultivated by mainly bisexual. Sexual and asexual reproduction methods are available reproduction. Using sexual seeds to breed, there is about 33-50% of female plants in the same batch of seedlings. Since the seedling stage cannot be distinguished the sex from the appearance, one planting hole needs to be planted with 3-4 strains. After the flower buds can be identified as flowery, one hermaphroditic strain is left and the others are removed.That has been spend a lot of seed and field management costs,and thus replaced by asexual reproduction seedling. Cuttage seedlings are the seedlings obtained by cutting and rooting the branches of papaya. Papaya vegetatively propagated and ensured the sexul.Good traits could be retained and which with low juvenility. The date to flowering is 1-2 months earlier than the seedlings. It is lower position of papaya fruit and could be harvested early.
Papaya is grafted side branches by the grafted seedlings,same as cutting sedding, it can retain the characteristics of the female parent and ensure that it is a sexual strain. It also has the characteristics of early flowering and dwarfing. And because the underground portion of the seedling root anvil having a strong healthy root system, the seedlings can be so similar, there is a strong resistance of phenology. The tissue culture seedlings are made of apical buds or lateral buds as materials.It is provide a variety of necessary nutrients for growth of buds in a sterile environment, and then undergo a procedure of hair root cultivation and domestication.
The advantage of tissue culture seedlings is that it can reproduce in large numbers and also retain the characteristics of the female parent and ensure that sedding are hermaphroditic. The reproductive efficiency is not affected by the natural climate. The juvenility is higher and the root growth is better than the cuttings. It currently accounts for the market of papaya seedlings about 70% or more. The various propagation methods of papaya seedlings have their own advantages and disadvantages, depending on the cultivation habits and needs of the fruit farmers, but now asexual reproduction has become the mainstream of papaya cultivation. In view of this, TSIPS actively breed papaya nutrition department, improve the fruit shape,and extend the storage time of Tai Nong No. 2, to promote the export of papaya fruit.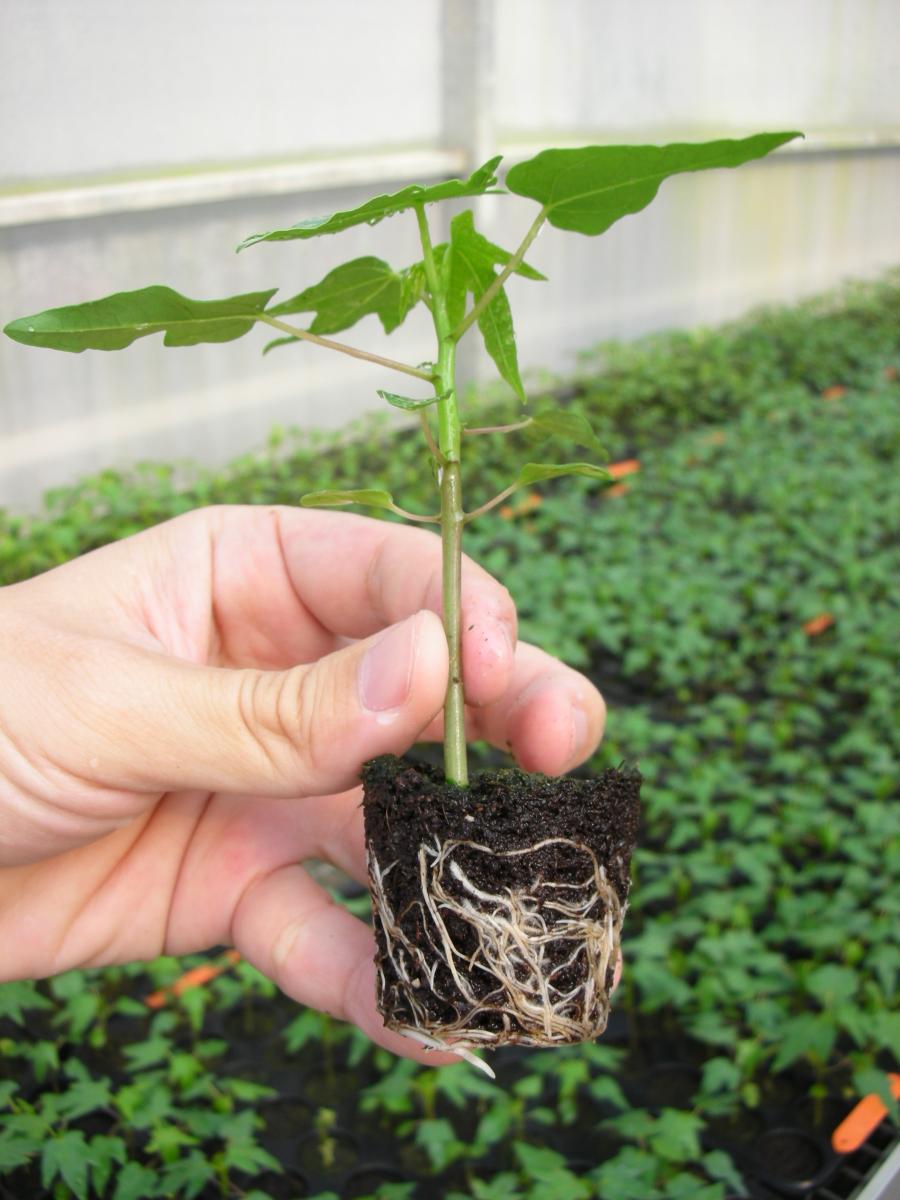 Papaya seedlings have a strong root system, but their appearance cannot be determined sex.

The papaya grafted seedlings retain the maternal characteristics and ensure that the plants are sexual strain and the plants are strong.

Reproduction papaya efficient isolation greenhouse.